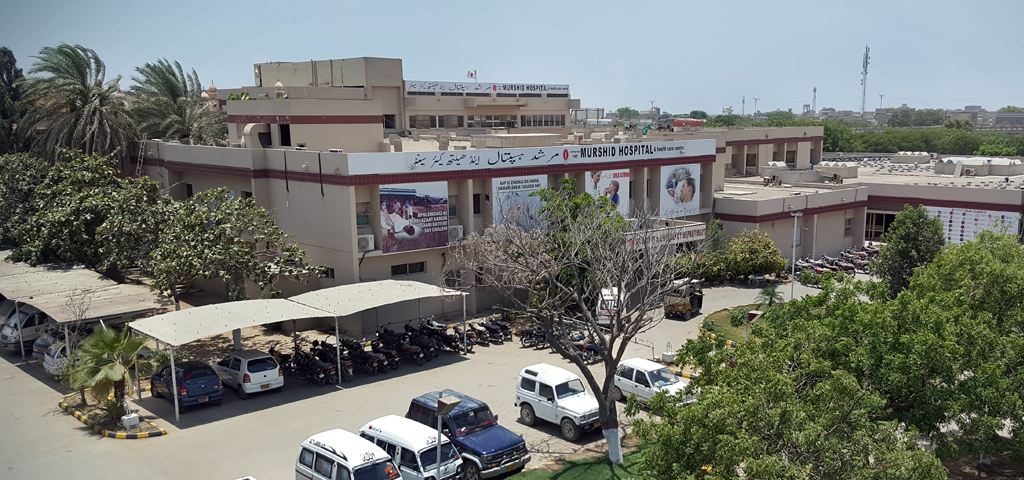 Murshid Hospital & Health Care Centre
The Murshid Hospital and Health Care Centre (MH&HCC) was established in 1987 as a not-for-profit hospital, a project of M/S Darut Tasnif (Pvt) Limited. It was established to serve the underprivileged people of suburban Karachi and Baluchistan areas around Hub River Road, which includes the vicinity of Baldia Town, Shershah, SITE, Dawood Goth, Ittehad Town, Javed Bahria, Musharraf Colony, Lasbela district, and other areas like Awaran, Khuzdar and Panjgoor stretching up and around boundaries of Baluchistan.
It has been providing quality patient care and offering a wide range of medical and surgical specialities for many years. Various preventive health care services and educational programme are also available at the hospital. College of Nursing associated with it offers undergraduate nursing education like Post RN BSc Nursing & B.Sc. Nursing (Generic) with the affiliation of Dow University of Health Sciences. Moreover, Murshid College of Nursing & Midwifery offers various short courses and training programmes related to medicine including community midwifery program, Nurse-Midwifery program, Technician courses and Aid nurse programs with the recognition and registration of relevant academic regulatory authorities.
The building of MH&HCC was designed by Messrs' Arshad and Shahid Abdullah, which covers 122,000 square feet (2.8 acres) of the total area of 435,600 square feet (10 acres). The area covered by the College of Nursing & Midwifery is approximately 25,606 square feet (0.5 acres) with attached hostel enclosed within a compound wall with a small garden.
Murshid Hospital and Health Care Centre operate with health care facilities in line with the medical standards offering various specialities it is currently functioning with 300 beds in different units. Services offered include Out-patient services, Intensive Care Units, High Dependency Units, Labour Room Suites, Endoscopy Suites, Operating Theatres, Radiology, Ultrasound, Blood Bank, Laboratory, Pharmacy and Accident & Emergency wing with surgical facility round the clock.
MH&HCC is being run under the umbrella of experienced management with the assistance of 400 staff members including qualified and committed consultants, specialists, resident medical officers, nursing and paramedical staff, technician and services support staff.